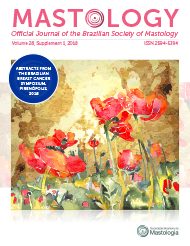 Volume 28, Supplement 1
PRESENTATION
1 – Message from the organizing committee.

ORAL
 2 – Mammography for breast cancer screening in Brazil: a current profile.
Karla O. Elesbão, Felipe Z. Pereira, Victória O. Prados, Pedro Paulo D. Soares, Maria Angélica E. Franco, Fabiane A. Carvalho.
COMMENTED POSTER
17 – Investment of the unified health system in screening mammography in Brazil, 2008–2017.
Danielle Cristina Netto Rodrigues, Ruffo Freitas-Junior, Rosemar Macedo Sousa Rahal, Luiz Paulo da Silveira Corrêa, Rosangela da Silveira Corrêa.

E-POSTER
32 – Pharmacokinetic model for quantitative evaluation of the EPR effect on albumin-based nanocarriers.
Ailton A. Sousa-Junior, Gustavo C. P. Leite, Nicholas Zufelato, Francyelli Mello-Andrade, Wanessa C. Pires,Elisângela P. Silveira-Lacerda, Andris F. Bakuzis.